Press Release
Development of an automatic thawing machine "Sassa" for frozen foods -realization of high-quality thawing and HACCP compatibility-
October 26, 2020
Chubu Electric Power Co.,Inc.
Ryoho Freeze Systems Co., Ltd.
Chubu Electric Power Co., Inc. (President: Kingo Hayashi; head office: Nagoya, Aichi Prefecture) and Ryoho Freeze Systems Co., Ltd. (President: Kazunari Ninomiya; head office: Nara City, Nara Prefecture, "Ryoho Freeze Systems") have jointly developed an "automatic thawing machine (product name: Sassa)", which allows frozen foods to be thawed quickly while still retaining their delicious flavor. The product will be launched on November 02.
As frozen foods lose their flavor and deteriorate in quality when they are thawed by being rapidly heated, they are usually thawed in the refrigerator for a day or so. Rapid thawing methods include using electromagnetic waves and running water, but such methods face issues such as uneven thawing and difficult hygiene management.
Sassa allows frozen foods to be thawed with results that are equivalent to thawing in a refrigerator, but in as short as one sixth the time or less, by using a mist stream that is optimized for various thawing requirements.
Furthermore, the "mist stream circulation" technology prevents uneven thawing no matter where the food is placed in the thawing compartment, and automatic temperature control allows anyone to easily operate and manage the machine, enabling even beginners to conduct hygiene management in a way that follows the HACCP (*) protocols.
Ryoho Freeze Systems aims to sell 60 units of Sassa per year, mainly to regional facilities such as school lunch centers, food factories, and supermarkets, etc., enabling foods to be quickly thawed while retaining their flavor, and reducing the burden of hygiene management.
(*) HACCP (Hazard Analysis and Critical Control Point)
HACCP refers to the hygiene management approach taken by food businesses to ensure product safety by identifying hazards such as the contamination of food with bacteria causing food-borne illnesses and foreign material contamination, etc., and managing the entire process from the delivery of raw materials to shipment of the final product, in order to eliminate or reduce such hazards. Starting on June 01, 2021, the Ministry of Health, Labour, and Welfare is requiring all food businesses to conduct hygiene management that follows HACCP protocols as a general rule.
1 Specifications
External view
Model number


BF-60CE (Sassa)


Power/maximum current


3φ3W-AC200V (60Hz/50Hz) 15A


Boiler output


4.2kW


Thawing compartment dimensions


Compartment space: W715mm×D765mm×H1060mm


Machine dimensions


Main unit: W1550mm×D880mm×H1950mm
Installation space: W1700mm×D1800mm


Machine weight


400kg


Thawing rack


Dimensions: 600㎜×600㎜
Number of shelves: 10


Water supply


Thawing time average: 1ℓ/min
Usage start time and cleaning time maximum: 15ℓ/min


Drainage


Condensed water discharge required during thawing


Reference price


6.5 million yen (excluding tax and construction costs)

2 Thawing principle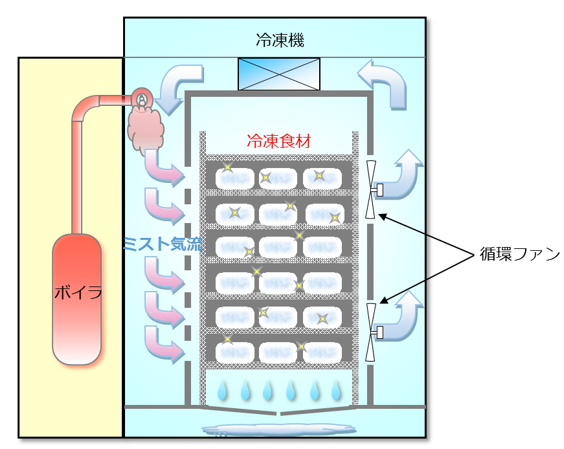 Thawing principle diagram
3 Characteristics
(1) Thawing time is one sixth or less than that of previous methods
Whereas thawing 60kg of chicken in a refrigerator from -20°C would take over 24 hours, this product allows the chicken to be thawed in as little as approximately 3.5 hours while maintaining the same level of quality.
In addition, the machine comes with a programming function, and by setting a thaw completion time in advance, the machine calculates the thawing time and begins thawing automatically.
(2) Eliminates uneven thawing
Previous thawing machines would result in differences in thawing speed between food that was placed at the edges of the compartment and food that was placed in the middle. This product enables the even thawing of food no matter where it is placed inside the compartment, due to the patent-pending technology, "mist stream circulation."
(3) Easy operation and temperature control even for beginners
As operation is simple and automatic temperature records are kept, even beginners can easily conduct hygiene management that is approved under the Food Sanitation Law (HACCP).
Core temperature control The internal temperature of the food is monitored.
Temperature control  The temperature of the thawing compartment is automatically recorded and stored, guaranteeing traceability.
(4) Reduction of replacement work
Food products can be placed in and out of the machine using wheeled racks, which drastically reduces the time and effort spent on replacing the food.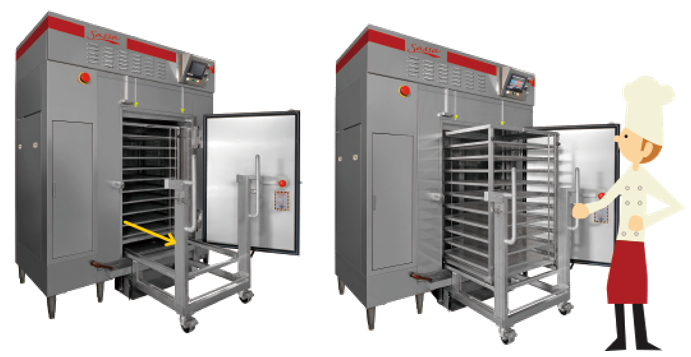 Image of replacement work