Chubu Electric Power Group Report (Integrated Report)
This report is issued as an integrated report that provides comprehensive coverage of both financial and nonfinancial information. The purpose of this report is to report the actual performance of the reporting period as results of our business activities and provide understanding of the sustainable growth process of the Chubu Electric Power Group and its feasibility.
Chubu Electric Power Group Report 2023 (Integrated Report)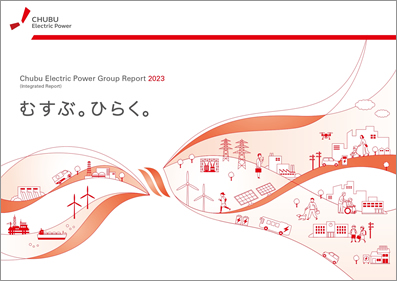 About Us
Contents
Editorial Policy
History of Chubu Electric Power
Chubu Electric Power Group at a Glance
Financial and Non-Financial Highlights
Value Creation
Aiming for a Higher Level of Social Trust
Chubu Electric Power Group Corporate Philosophy
For Providing Value Desired by Stakeholders
Materiality (Material Issues) for the Chubu Electric Power Group
Value Creation Proces
Chubu Electric Power Group Management Vision 2.0 and Medium-term Management Plan
CFO Message
Realizing Management with an Awareness of Cost of Capital and Stock Price (toward Improving PBR)
Progress of Chubu Electric Power Group Medium-term Management Plan
Providing Safe, Affordable and Stable Energy
Human Resources Strategy
Promotion of Digital Transformation (DX) in the Chubu Electric Power Group
Promotion of Kaizen activities
Technology Research and Development and Intellectual Property
Disclosure Based on TCFD Recommendations
Business Activities
Toward Improving the Safety and Reliability of the Hamaoka Nuclear Power Station
Renewable Energy Business
Chubu Electric Power Grid Co., Inc.
Chubu Electric Power Miraiz Co., Inc.
Global Business
New Growth Fields
JERA Co., Inc.
Undertaking Regional Infrastructure Business
Contribute to Solving Local Issues and Revitalizing Local Communities
Foundation for Growth
Creating an Environment Where Diverse Human Resources Can Take Active Roles
Providing Opportunities and Support to Employees Who Meet the Challenge of Self-transformation
Special Feature : Stakeholder Engagement – Proactive Dialogue with Stakeholders
Respect for Human Rights
CSR-conscious Procurement
Practice of Environmental Management
Coexistence with Local Communities
Dialogue between the Chairman of the Board of Directors, an External Director and External Corporate Auditor
Corporate Governance
Operating Company Governance Structure
Risk Management
Ensuring Compliance Management
Data
Five-Year Operating and Financial Statistics (Consolidated)
Management Discussion and Analysis of Operating Results, Financial Standing, and Cash Flows
Business and Other Risks
Consolidated Financial Statements
Corporate Data
Associated Companies
Financial Section(Year ended March 31, 2023)
Consolidated Balance Sheets
Consolidated Statements of Operations
Consolidated Statements of Comprehensive Income
Consolidated Statements of Changes in Net Assets
Consolidated Statements of Cash Flows
Notes to Consolidated Financial Statements
Independent Auditor's Report
Appendix : Financial Section(Year ended March 31, 2023)
Back Number
Please click here to request Group Report, Annual Report and CSR Report of the past
Group Report
Independent Assurance Report
Some figures of Total greenhouse gas (GHG) emissions in 2021 externally assured by KPMG AZSA Sustainability Co., Ltd. on Environmental Management Data 2022.