Press Release
Conclusion of Agreement for Joint Construction of Mega-solar Power Facility in Iida City, Nagano Prefecture
February 24, 2010
Iida City
Chubu Electric Power Co.,Inc.
Iida City (Mayor: Mitsuo Makino) and Chubu Electric (President: Toshio Mita) have today concluded an agreement concerning the joint construction of a mega-solar power facility in Iida City, Nagano Prefecture.
Iida City will provide the land for the power station and will construct the PR facilities. Chubu Electric will construct, operate, and maintain the power station. Both parties to the agreement will cooperate in activities to promote awareness of solar power as an energy source.
As an Environmental Model City, Iida City is attempting to develop a new system of energy supply and demand that enables maximal use of the region's natural energy in the daily lives of its citizens and in local business activities. In a significant pioneering effort towards firmly establishing systems that are suitable for a low-carbon society in regional communities, in this project the city, with the cooperation of the residents of the Kawaji area, will actively work towards the realization of mega-solar generation that makes use of the hours of usable sunlight with which the inland regions are blessed.
Chubu Electric Power Company positions efforts towards the amelioration of environmental issues as one of the most important aspects of our operations, and we are engaged in a variety of initiatives aimed at contributing to the realization of sustainable development in our region by protecting the environment. We will continue to work for the introduction of low-CO2 energy sources such as mega-solar facility developments, striving our utmost efforts towards the realization of a low-carbon society.
<Outline of planned mega-solar facility>
Power plant name

Mega Solar Iida

Location

Kawajijoyama, Iida City, Nagano Prefecture

Scale of the development

1,000 kW

Anticipated annual power generation

1 million kWh

(Equivalent to annual power consumption of 300 ordinary households)

CO2 reduction

Approximately 400 metric tons per year

Scheduled start of construction

2010

Scheduled start of operation

2011

Area of development site

Approximately 18,000 m2
Attachment
Attachment1
Planned Location of Facility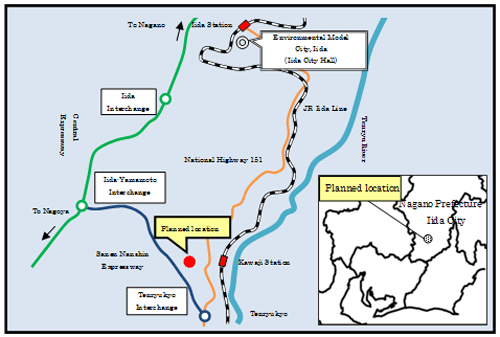 Image of Mega Solar Iida