Press Release
Commencement of Construction on Mega Solar Iida Project
August 09, 2010
Chubu Electric Power Co.,Inc.
Chubu Electric has agreed to construct a mega-solar facility to be called Mega Solar Iida in cooperation with Iida City.
(Reported on February 23, 2010.)
Today, having made notification of the intended construction of facilities in the Mega Solar Iida project as stipulated by Article 48 of the Electric Utilities Industry Law concerning construction plans, we broke ground on the site.
On August 20, we will conduct a ceremony to pray for safety on the construction, and we will commence full-fledged electrical and other construction work from September, looking towards commencement of operation of the facility in February 2011.
With the understanding and cooperation of the local residents and everyone affected by the project, we will proceed with the construction work with a focus on safety.
<Outline of planned mega-solar facility>
Power plant name

Mega Solar Iida

Location

Kawajijoyama, Iida City, Nagano Prefecture

Scale of the development

1,000 kW(1 MW)

Anticipated annual power generation

1 million kWh
(Equivalent to annual power consumption of 300 ordinary households)

Scheduled start of construction

August 09, 2010

Scheduled start of operation

February 2011

Area of development site

Approximately 18,000 m2
Attachment
Attachment1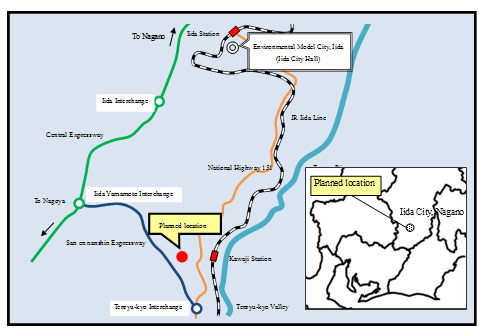 Attachment2