Press Release
Start of Commercial Operation of "Mega Solar Iida"
January 28, 2011
Iida City
Chubu Electric Power Co.,Inc.
Chubu Electric Power Co., Inc. (President & CEO: Akihisa Mizuno; head office: 1, Higashi-Shincho, Higashi-ku, Nagoya, Aichi) and the city of Iida (Mayor: Mitsuo Makino; Nagano) today started up commercial operation of "Mega Solar Iida," a solar power facility which has been under construction in Kawajijoyama, Iida City, Nagano Prefecture.
As a facility, "Mega Solar Iida" is a symbol of using natural energy for Iida, a designated environmental model city. It is also Chubu Electric Power's first commercial solar power station.
The station has an output of 1 MW, and the start of operation is forecast to reduce CO2 emissions by about 400 tons annually.
As an environmental model city, Iida is taking proactive initiatives for building a low carbon environmental and cultural city, for example by using this power station to promote and raise awareness of solar power.
Chubu Electric Power hopes to attain the understanding and cooperation of the local community and all concerned as we operate and maintain this power station. In addition to this power station, we are also making steady progress on "Mega Solar Taketoyo" (under construction on the grounds of the Taketoyo Thermal Power Station) and the tentatively named "Mega Solar Shimizu" (being planned for Shimizu-ku, Shizuoka City). Through these and other efforts, we continue to work proactively to implement energies with low CO2 emissions.
<Outline of power station>
Name

Mega Solar Iida

Location

Kawajijoyama, Iida City, Nagano Prefecture

Scale

1 MW

Anticipated annual power generation

1 GWh
(equivalent to annual power consumption of 300 ordinary households)

Area of development site

Approx. 18,000 m2
Attachment
Attachment1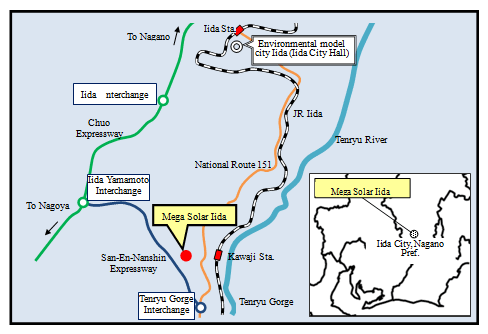 Attachment2