Press Release
Conclusion of Contract for Purchase of LNG produced by Wheatstone Project
March 29, 2013
Chubu Electric Power Co.,Inc.

Chubu Electric Power Co., Inc. concluded a contract with Chevron, Apache Energy and KUFPEC for the purchase of liquefied natural gas (LNG) produced by the Wheatstone Project in Western Australia yesterday.
This contract, for the purchase of 1 million metric tons of LNG per year for up to 20 years from 2017 on FOB basis, will contribute to our ability to procure a stable and economical supply of LNG into the future.
Chubu Electric Power will continue its endeavors to enhance the fuel supply chain for more reliable, economical and flexible procurement.
[Overview of contract for purchase of LNG]
Sellers

Chevron Australia Pty. Ltd.

Chevron (TAPL) Pty. Ltd.

Apache Julimar Pty Ltd.

Kufpec Australia (Julimar) Pty Ltd.

Purchaser

Chubu Electric Power Co., Inc.

Period

up to 20 years from 2017

Quantity

1 million metric tons per year
(Reference)Overview of Wheatstone Project
| | |
| --- | --- |
| Gas fields | Wheatstone, Iago, Julimar and Brunello |
| Liquefaction capacity | 8.9million metric tons per year |
| Commencement of supply | 2016 |
| Base for shipments | Ashburton North |
| Participating companies | Chevron Corporation (64.14%, operator), Apache Julimar Pty Ltd.(13.00%), PE Wheatstone Pty Ltd. (8.00%), Kuwait Foreign Petroleum Exploration Company (KUFPEC, 7.00%), Shell (6.40%) and Kyushu Electric Power Company (1.46%). |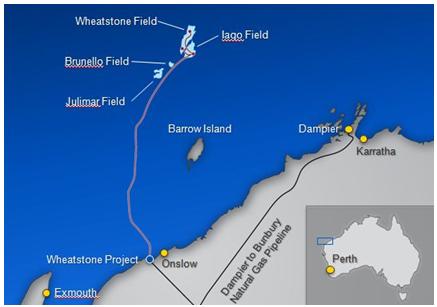 [Courtesy: Chevron Australia Pty. Ltd.]