Press Release
The Mie-Shiga gas pipeline inaugurate
January 30, 2014
Osaka Gas Co., Ltd.
Chubu Electric Power Co.,Inc.

The Mie-Shiga gas pipeline, jointly constructed by Osaka Gas Co., Ltd. (President: Hiroshi Ozaki; 'Osaka Gas' below) and Chubu Electric Power Co., Inc. (President: Akihisa Mizuno; 'Chubu Electric' below) was inaugurated today.
The Mie-Shiga gas pipeline is a natural gas pipeline of approximately 60 km in length, connecting Chubu Electric's Yokkaichi Thermal Power Station and Osaka Gas's Taga Governor Station.
Having reached a mutual agreement concerning the construction of the pipeline in September 2004 (announced on September 28, 2004), Osaka Gas and Chubu Electric commenced construction work and the establishment of facilities in their respective sections on September 2005 and May 2006, and the two companies have pushed ahead with work towards the opening of the pipeline until today.
The connection of the Shiga gas pipeline and the Mie-Shiga gas pipeline will make it possible for Osaka Gas to receive gas from Chubu Electric, increasing the reliability of the city gas supply.
At the same time, because the new pipeline forms part of a backup system, enabling Chubu Electric to receive natural gas from Osaka Gas when it is urgently needed for the generation of power, it will also increase the reliability of the supply of electric power.
As public utility companies, Osaka Gas and Chubu Electric Power will continue in their efforts to meet the expectations of customers, shareholders, and local communities through the stable supply of energy, the maintenance of security, and improvements to services.
Attachment
Attachment 1
Main facilities in vicinity of Mie-Shiga gas pipeline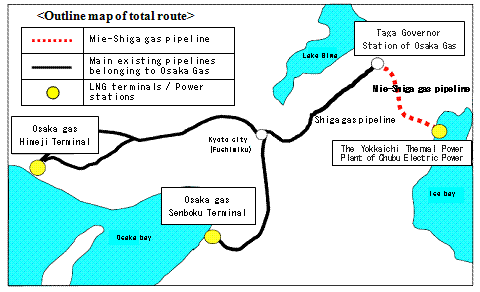 Overview of Mie-Shiga gas pipeline facilities
| | |
| --- | --- |
| Route | The Yokkaichi Thermal Power Plant of Chubu Electric Power (Yokkaichi-shi, Mie Prefecture) to Taga Governor Station of Osaka Gas (Taga-cho, Inukami-gun, Shiga Prefecture) |
| Specifications | Design pressure: 7 Mpa, diameter: 600 mm |
| Length | Approx. 60 km |