Press Release
Chubu Electric Power's Nishi-Nagoya Thermal Power Station Unit 7-1 Recognized by Guinness World Records as World's Most Efficient Combined Cycle Power Plant: Achieved 63.08% Power Generation Efficiency
March 27, 2018
Chubu Electric Power Co.,Inc.
Toshiba Energy Systems & Solutions Corporatio
Chubu Electric Power Co., Inc. (Headquarters: Higashi-ku, Nagoya City; President & Director: Satoru Katsuno; hereinafter "Chubu Electric Power") and Toshiba Energy Systems & Solutions Corporation (Headquarters: Kawasaki-shi, Kanagawa; President and CEO: Yoshihiro Aburatani; hereinafter "Toshiba ESS") are proud to announce their achievement of a 63.08% power generation efficiency (lower heating value (note 1)) at Chubu Electric Power's Nishi-Nagoya Thermal Power Station No. 7-1. There will be a ceremony today for said Station having been granted with recognition by the Guinness World Records as the world's most efficient (note 2) combined cycle power plant.
Nishi-Nagoya Thermal Power Station No. 7-1 is a plant based on a multi-shaft combined-cycle method pairing three gas turbines with one steam turbine. Toshiba Corporation (currently Toshiba ESS) had been constructing the Station after receiving an order from Chubu Electric Power in 2012. By combining gas turbines (manufactured by General Electric) with steam turbines and generators (both of which are made by Toshiba ESS), Toshiba ESS managed to optimize the overall design of the plant's power-generating system. That enabled Unit 7-1, which started commercial operations in September 2017, to achieve the world's highest efficiency of 63.08%.
Nishi-Nagoya Thermal Power Station went into commercial operation as an oil-fired power plant in 1970, but along with the aging of its equipment, the Station has been under renewal initiatives to become a highly-efficient power plant aiming for reduced carbon dioxide emission and fuel consumption. Following the Guinness-acknowledged Unit 7-1, constructions based on the same specifications are underway at Unit 7-2, the commercial operation of which is scheduled to start in late March 2018.
Chubu Electric Power and Toshiba ESS will continue to promote efforts toward a stable and safe supply of energy, harnessing power-generating technologies that offer high efficiency and at the same time contributing to realizing a low-carbon society.
(Note 1) A calculation method that excludes the evaporation heat of water vapor generated by fuel combustion. A method that includes the evaporation heat is called high heating value.
(Note 2) As of March 2018
[Overview of Nishi-Nagoya Thermal Power Station Group No. 7]
Location

3-5, Higashihama, Tobishima Village, Ama District, Aichi Prefecture

Output

No. 7-1: 1,188,200 kW, No. 7-2: 1,188,200 kW
(Group No. 7: 2,376,400 kW)

Power generation system

Multi-shaft combined-cycle power generation system
(Three gas turbines + One steam turbine)×2 blocks

Fuel

LNG (Liquefied natural gas)

Thermal efficiency

62% or greater (lower heating value)

Start of construction

January 2014

Start of commercial operation

No. 7-1: September 29, 2017
No. 7-2: March 2018 (Scheduled)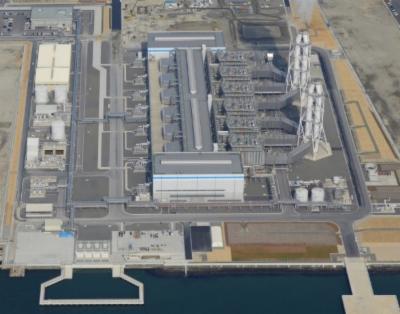 (Photo taken on February 19, 2018)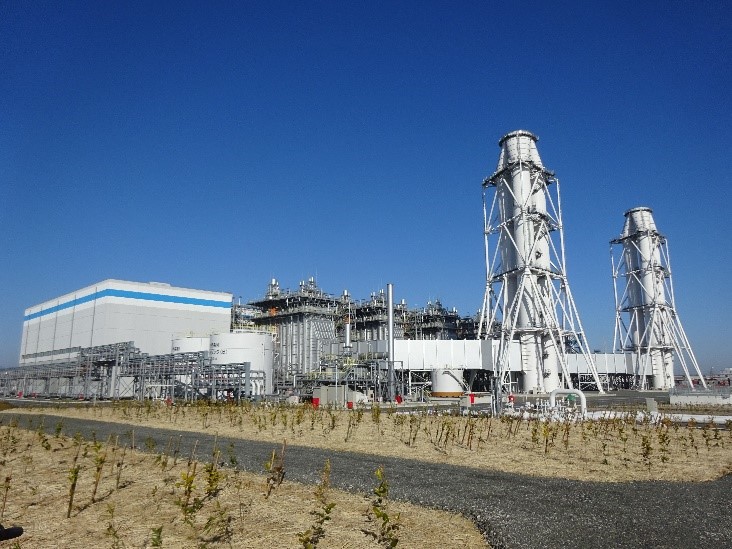 (Photo taken on March 11, 2018)
[Guinness World Record]
The Guinness World Record®, annually issued by Guinness World Records Limited, was first published in 1955 as Guinness World Records books. The books have been translated into over 21 languages and sold in more than 100 countries. The Guinness World Record® carefully checks world records that have been collected and only lists reliable ones. Winning recognition of this Record is a very respected feat.
(Note) The Guinness World Record® is a registered trademark of Guinness World Records Limited.