Amassing Full On-site Strength
Establishing the Emergency Response Structure / Strengthening Initial Response / Developing Procedures / Expanding Materials and Equipment / Expanding and Enhancing Worker Education and Training
Safety Improvement Measures
We ensure to enforce necessary safety measures against earthquakes, tsunamis, severe accidents, etc. to minimize accident risk.
While reinforcing facility measures, Hamaoka Nuclear Power Station is also making all-out efforts to 'strengthen the frontline response capabilities' as it is humans who can handle those facilities to make the measures function effectively.
Establishing the Emergency Response Structure
The power station as an emergency response structure, which is headed by the Station Director, and designed to efficiently and effectively address a severe accident.
Strengthening Initial Response
The power station is strengthening its initial response structure to enable swift response to any accident. As part of the efforts, it has formed 'the Emergency Response Force (ERF)', a specialist team to attend an accident site ahead of others to carry out initial response operations, in an initiative to secure initial response personnel on site 24 hours a day and 365 days a year. The ERF is currently receiving personnel reinforcement in preparation for its operation launch.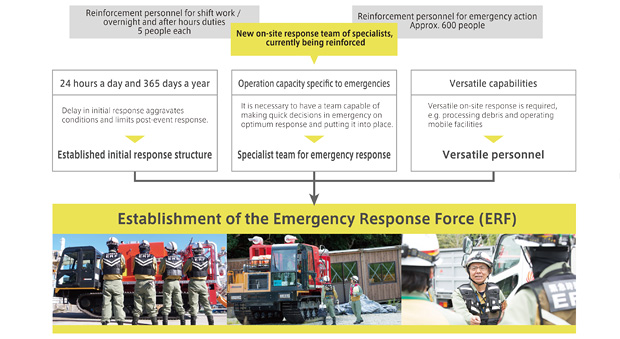 Developing Procedures
The power station has developed response procedures for station blackout, severe accident, etc. to ensure appropriate response. Trainings are carried out to verify the procedures' effectiveness.
Expanding Materials and Equipment
Materials and equipment required to bring an accident under control are available on the site of the Hamaoka Nuclear Power Station. To ensure that response personnel can operate without external assistance, the power station has seven-day supplies of water and foods on site, as well as dosimeters, communications devices, and other equipment.
Expanding and Enhancing Worker Education and Training
In order to boost the emergency structure's response capabilities, the power station is expanding and enhancing its education and training program for workers according to their roles. We will continue to deploy diverse facilities / equipment and boost on-site response capabilities, while continuously confirming and improving the power station's overall emergency response capacity from making initial response to bringing an accident under control.