Press Release
Equity Investment in Freeport LNG Project in the US
February 27, 2014
Chubu Electric Power Co.,Inc.

Osaka Gas Co., Ltd ("Osaka Gas") and Chubu Electric Power Co., Inc.("Chubu Electric") are pleased to announce a decision to invest in Freeport LNG("Freeport")'s proposed natural gas liquefaction and LNG loading facility on Quintana Island near Freeport, Texas, USA.
Adjacent to its existing regasification facility which Freeport owns and operates, Freeport is developing three liquefaction facilities with a capacity of approximately 4.4 million ton per annum each.The first two trains seek to achieve Final Investment Decision ("FID") as well as commencement of construction in the 2nd half of 2014 after obtaining Federal Energy Regulatory Commission ("FERC")'s approvals, among others.
Osaka Gas and Chubu Electric will be LNG off-takers of the first train. After FID, Osaka Gas and Chubu Electric each plans to acquire a 25% equity of the first train project company and invest approximately $600 million (approx. JPY60bn), respectively, throughout the construction period (approx. 4 years). In relation to the investment, Osaka Gas and Chubu Electric are in discussion with Nippon Export and Investment Insurance ("NEXI") seeking to take out NEXI's Overseas Investment Insurance policy. In addition, we are also in talks with potential lending parties including Japanese government financial agencies for financing.
Osaka Gas and Chubu Electric will be directly involved in the construction as well as operation of the project so as to ensure that the project is successfully established and to expand our LNG businesses.
By procuring LNG from this project and further facilitating destination-free LNG supply sources, Osaka Gas and Chubu Electric seek to diversify the sources of LNG supply and price indexes whereby achieving stable and competitive LNG procurement.
Overview of Freeport LNG Project
| | |
| --- | --- |
| Place | Freeport, Texas |
| Commercial Operation | 2018 (planned) |
| Liquefaction Capacity | Approximately 4.4 million tonnes p.a. x 3 trains |
Overview of Freeport
| | |
| --- | --- |
| Name | Freeport LNG Development, L.P. (FLNG) |
| Place | Houston, Texas |
| Shareholders | Freeport LNG Investments (27.5%), Zachry Hastings subsidiary (55%),Dow Chemical subsidiary (7.5%), Osaka Gas subsidiary (10%) |
Overview of the First Train Project Company
| | |
| --- | --- |
| Name | FLNG Liquefaction, LLC |
| Place | Houston, Texas |
| Shareholder | FLNG subsidiary (100%, before Osaka Gas and Chubu Electric's investment) |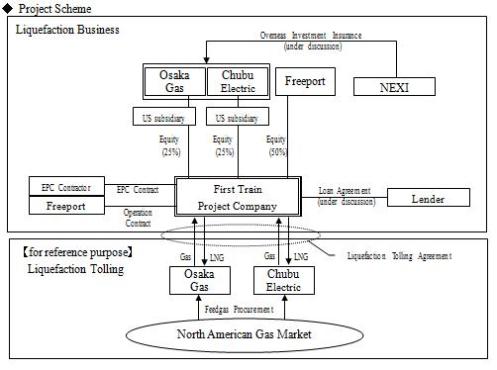 Reference Information