Blocking a Tsunami
Prevention of Flooding on the Station Site
Various countermeasures are implemented including the installation of the tsunami protection wall.


Installing the tsunami protection wall and raising of the eastern and western cement-mixed soil embankments
A tsunami protection wall 22 m above sea level (total length approx. 1.6 km), and cement-mixed soil embankments at each end of the wall, 22 -24 m above sea level is being constructed.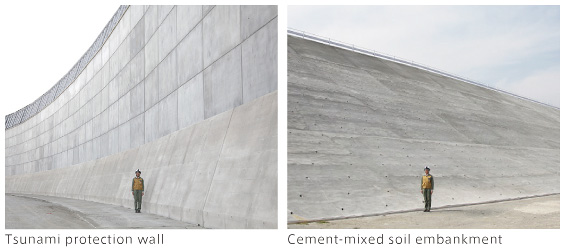 Installation of overflow prevention walls
We are placing overflow prevention walls, approx. 4 m high, around water intake ponds in order to prevent the inflow of seawater from water intake channels that connect ponds with the ocean through tunnels.